Take a look here at some of the news & updates surrounding the sector that have caught our eye these past couple of weeks…
Early Years Wales Head Office Move
First and foremost, we have MOVED!
After more than a decade in our Head Office in Cardiff Bay we have moved to a new premises that will take us onto the next leg of our journey.
You can find us at:
Unit 1 Coopers Yard, Curran Road, Cardiff CF10 5NB
(just a stones throw from Cardiff Central Station)
For details of all our other regional offices visit our website here.
Coronavirus
Coronavirus (2019-nCoV)
All childcare and play settings in Wales are advised to note the guidance issued by the Welsh Government and Public Health Wales on the novel coronavirus, COVID-19. These also include useful Q&A's that may answer any concerns you have.
The guidance can be found on the Welsh Government website here.
Care Inspectorate Wales (CIW)
Registrations for childcare and play providers can now be submitted to CIW via CIW Online!
CIW are no longer accepting paper applications as from 28th February 2020. If you have already started a paper application, it may be worth restarting this on CIW Online.
Everything you need to know can be found on CIW's website here.
Welsh Active Early Years
Early Years Wales and Welsh Gymnastics have partnered to deliver the Welsh Active Early Years project to 0- 5-year olds across Wales.
Our Welsh Active Early Years social media pages are now officially up and running! Follow us on our journey through this exciting new project which includes…
⭐ Active Together Wales – the new 4-week multi skills movement & play based activity programme for adults & children at community-based venues and outdoor spaces in 12 communities across Wales
⭐ Active Baby and You – the new physical literacy programme for 0-3 year olds to be delivered as part of the existing Play to Learn training to Early Years, Childcare, Playwork and Gymnastics practitioners.
Facebook: https://www.facebook.com/WelshActive
Twitter: https://twitter.com/WelshActive
Instagram: https://www.instagram.com/welshactive/
Active Baby and You
Calling all Early Years, Childcare, Playwork and Gymnastics practitioners…
TWO more Play to Learn – Active Baby and You workshops just announced
📍 Cardiff – 14/03/2020
📍 Carmarthen – 28/03/2020
This training approach will provide you with the skills and knowledge to enable you to cascade activities and health and well-being messages to the children in your care. It will also provide you with information to support parents through 4-week multi-skills play based approach.
More information on these workshops can be found on our Events page here.
Quality for All successes!
Congratulations to…
🔸 Busy Bees at BICC (Flying Start), Torfaen
🔸 First Steps Playgroup Trelai Flying Start, Cardiff
🔸 First Steps Windsor Clive Playgroup Flying Start, Cardiff
🔸 Little Angels (Riverside), Cardiff
🔸 Two Counties Nursery, Torfaen
…who have successfully passed our Quality Assurance Scheme, Quality for All (QfA) over the past few months. We're proud of your achievements.
If your would like more information on QfA, or would like to take part, visit our website here.
easyfundraising
Hello Payments!
This week, settings who are registered with easyfundraising are being paid. Congratulations to every setting that's receiving a payment!
If you're not registered yet, you're missing out on an easy and completely free way to raise donations without having to ask parents and staff to donate themselves.
4,000 shops and sites will donate, including retailers your parents and staff are already shopping with like Amazon, eBay, Booking.com, Hobbycraft, M&S, JUST EAT & Tesco.
Register now to start raising towards educational, sporting and play equipment, books, trips and extra benefits for the children in your care!
#WorldBookDay2020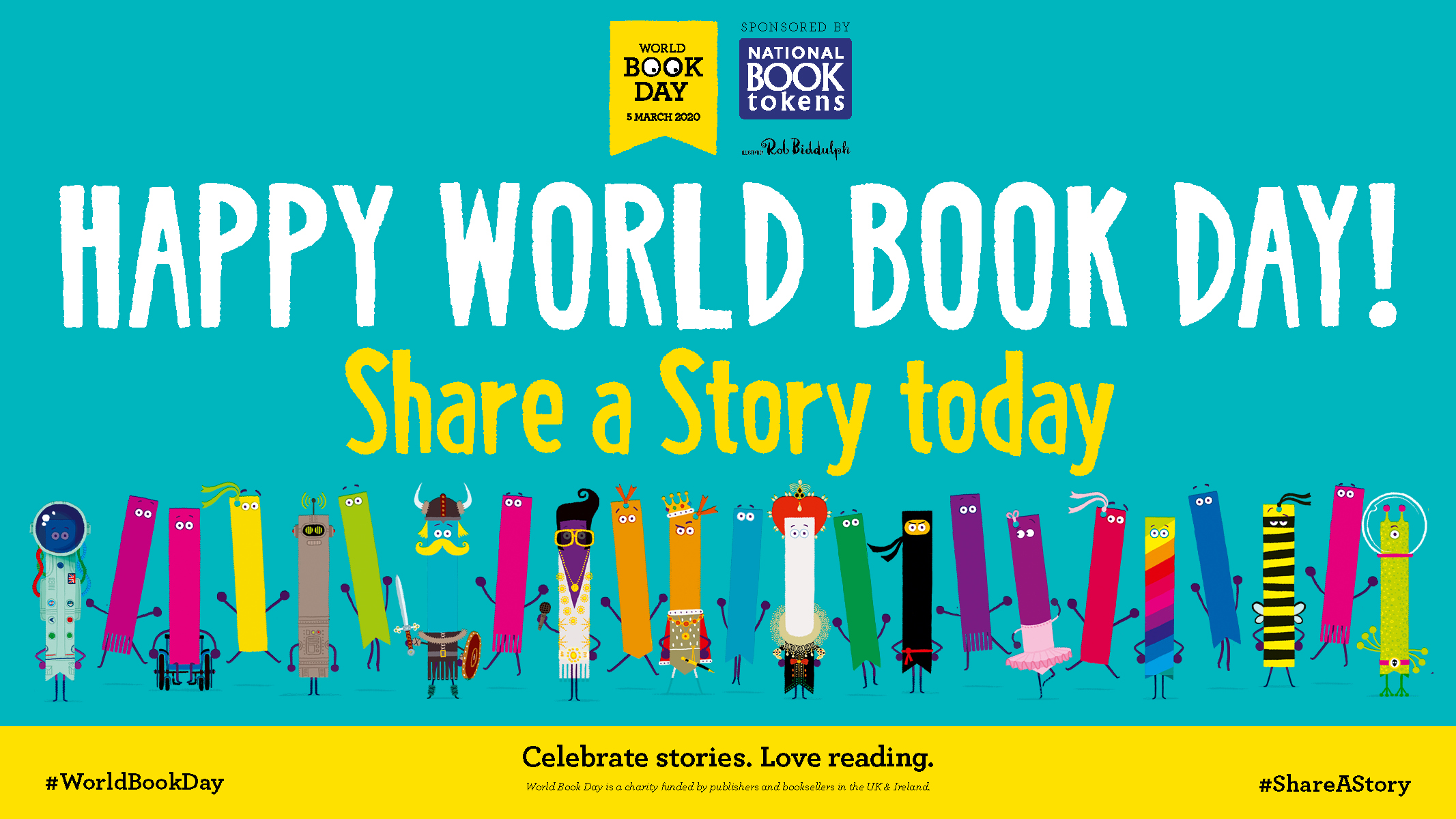 It was World Book Day yesterday (Thursday 5th March 2020) and we saw some fantastic costumes across all our social media channels yesterday!
The main aim of World Book Day in the UK and Ireland is to encourage children to explore the pleasures of books and reading. It is their mission to give every child and young person a book of their own.
World Book Day's Share a Million Stories campaign is still running up until the 29th March 2020 – a nationwide campaign to help change children's lives, by making story-sharing a habit of a lifetime and creating readers for life. Reading for pleasure is in decline, so they want to boost it back up, raise awareness and spark millions of imaginations!
Find out how you can get involved in this campaign here.
Early Years Wales Members Forums
Join us for our Narberth Early Years Wales Members Forum on Tuesday 17th March (6:30pm – 8:30pm)
Details below…
Social Care Wales Early Years and Childcare Conferences
Social Care Wales are holding four Early Years and Childcare Conferences across Wales during April 2020 for early years and childcare managers.
The programme will include:
◼️ a short update on current developments from Social Care Wales
◼️ interactive workshops to support the employer/manager in qualification assessment
◼️ additional workshop on the All Wales induction framework for early years and childcare and the joint Qualification Framework for Wales.
…also a great opportunity for managers to meet with other managers within their region!
Find out where your closest conference is on our Events page here.
⏰ Places are limited so early booking is recommended ⏰
Vacancies
Professional Learning and Development Officer | Early Years Wales
Are you an inspiring and enthusiastic individual, who is keen to develop and deliver the Early Years Wales Continuous Professional Development Programme to the Early Years workforce and support parents across Wales?
If so, we want to hear from you!
For the full job description of our new Professional Learning and Development Officer vacancy, visit our Jobs page here.
All completed application forms should be sent to info@earlyyears.wales
CLOSING DATE: 12.00 p.m. 20th March 2020
Our members also have the following vacancies within their setting…
Playdays Playgroup, Rhyl – Sickness cover (3 months)
Are you recruiting?
Don't forget that Early Years Wales members can advertise their vacancies on our website and social media pages for FREE – just one of the benefits of being a member with us!
Email us at info@earlyyears.wales with your job advert and we will take care of the rest.
…& finally 
Seeing Double? Not in this case…
A nursery in Stockport has welcomed nine sets of twins in what staff believe is a unique scenario.
The group of children, which includes two sets of identical twins, are aged from five months to four years old.
Staff believe it is the only nursery in the UK with so many twins.
View the full report here.